We are here to lend a helping hand. The loss of a loved one is difficult for the family under any circumstances. It is the goal of every member of our staff to ensure that all details of the interment and follow-up are performed in the most sensitive and professional manner.
---
Integrating Traditional Burial and Cremation
With the rise in cremation burials, we are challenged to share and educate families about burial options and, more importantly, about memorialization for all options. A shift from traditional to more modern burial concepts has given us the opportunity to offer burial and memorialization choices that did not previously exist.
Many families have continued to have traditional burial arrangements on existing family lots or purchase additional spaces. Some have chosen to inter cremains on the family lot in available spaces and match the existing memorials.
In the case of a full lot, we offer a Family Columbarium, either beside a family monument or in place of a family monument. Alternately, a columbarium niche may be purchased instead of burial property.
Any combination of options allows the family to continue to permanently preserve their heritage.
---
We are Proud to Unveil the Newly Constructed
Cedar Lawn Cremation Garden and Memorial Cross.
Located in the heart of the Garden of Devotion between Memorial Drive and the familiar Bible feature, this beautifully landscaped area will host personal cremation memorial bench estates and a very affordable single- or double-inurnment columbarium niche in one of our columbariums.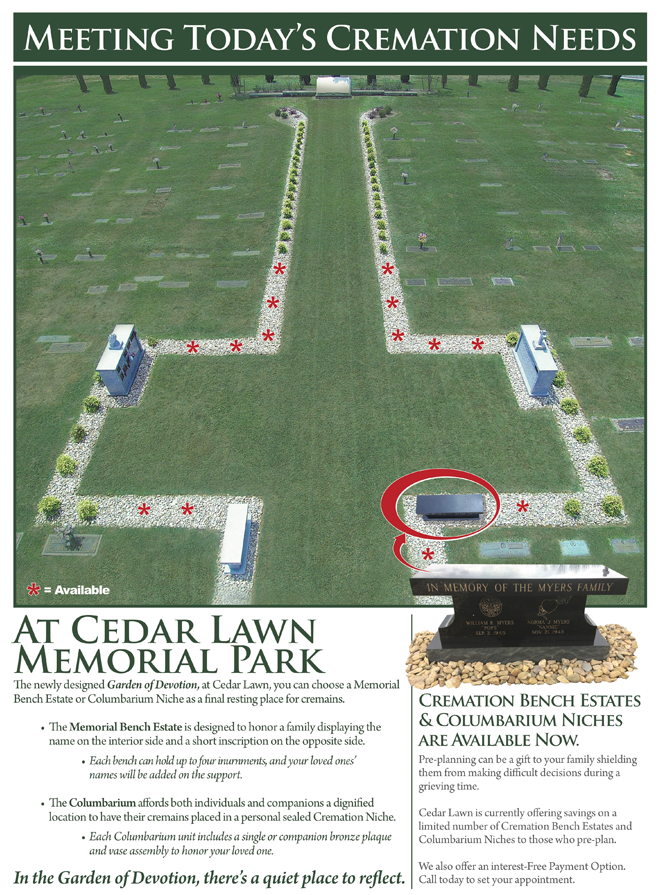 The Columbarium in the Garden of Devotions affords both individuals and companions a dignified location to have their cremains placed in a personal sealed cremation niche. Each until includes a single- or companion bronze plaque and vase assembly to honor your loved one. Your family and loved ones will appreciate your attention to detail.
---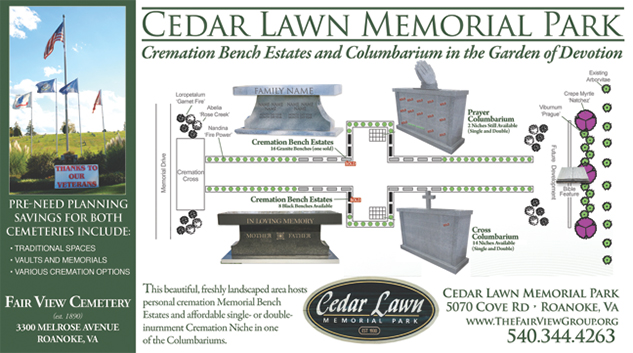 ---
Estate Benches at Fair View Cemetery
and Cedar Lawn Burial Park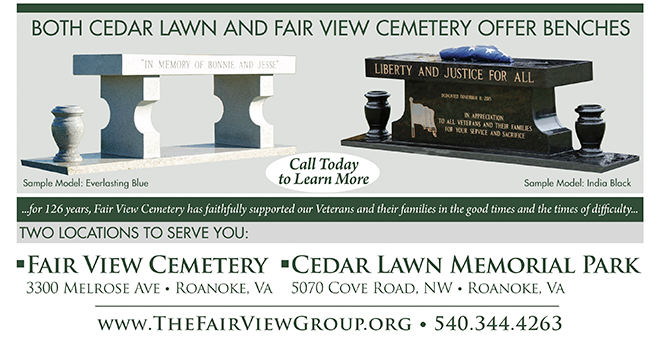 Each Memorial Bench Estate will proudly display your family name on the interior side and a short inscription on the opposite side. Each bend can hold up to four inurnments, and your loved ones' names will be added on the support. The first four cornerstone locations of Everlasting Blue Memorial Bench Estates are available for a short time with pre-construction pricing.
Click here to download our brochure.
---
We Can Help.
Whether you choose a pre-need or at-need selection, we suggest you take the time to compare options and costs by calling our office.
We invite your inquiry about our range of interment options. See our FAQs page for more information.
When you purchase vaults and memorials in Fair View Cemetery or Cedar Lawn Memorial Park, you are providing funds for continual care. One may choose an individual or family lot in either of our cemeteries.
Whether prior arrangements have been made, or the family purchases a burial space at need, a Family Service Counselor will receive the bereaved family members at the cemetery to review all details of the committal service, including a visit to the gravesite.
The Fair View Group will assist in coordinating all details with the funeral home, including leading the procession, assisting family and pallbearers to the committal site, attending the service, and remaining at the gravesite until interment is complete. Upon request, Fair View will also assist in pastoral services.