The Cemeterian's Creed

I assist people with something that they really don't want, but they need, and cannot do without, as it brings them solace and comfort.
Families invest their futures with me.
I provide for eternity that one single place that offers comfort and peace.
I am the caretaker of a sacred place, a place they come to for reflection and prayer.
They are counting on me.
I keep families together forever and ever.
I am the necessary link joining their "here" and "hereafter."
Yes my work is meaningful. In the most singular sad event of their life — my service is critical to them.
They have placed their trust with me.
I am your Cemeterian.
— Author unknown
Dear Friends
"I just wanted to thank you all again for the time and help you gave me in locating my father's grave. It meant a lot. Best wishes."
— Anonymous
---
A Peaceful, Sacred Place
"When I come through the Cemetery stone entrance, it's bittersweet. It's sad, but a very peaceful and quiet place. It's a sacred space to remember your loved one, while praying and walking along the tree-lined roads with the beautiful sky, mountain views and monuments."
— Rob
---
"I so appreciate your help with the grave marker. I do not know what I would have done without your assistance."
— Nancy & Family
---
Keep Up the Good Work
"I just want to let you know how nice the cemetery at Cedar Lawn looked yesterday. I was there to put flowers on my Brother's grave. Keep up the good work. It is very much appreciated. Thank you."
— Reba
---
Happy Memories
"We appreciate all Fair View has done over the years for our family. Lots of fun stories in the face of trying times while within your gates."
— Anonymous
---
Daughter's Gravestone
"I wanted to email you guys and say thank you for helping me pick out my daughter's gravestone. I am forever grateful for this. It is so beautiful. Thank you!!"
— Erin
---
Grave Marker
"The entire family visited the grave site on Memorial Day and got the most wonderful surprise of seeing the marker in place. It made our weekend extra special! I sincerely appreciate you and the staff at Fair View for working with us and getting the marker installed."
Sincerely, Kathy
---
Lasting Memories
"I want to thank everyone at Cedar Lawn and Fair View for helping me on one of the toughest days of my life. When we lost Kayden, everyone in the office was so respectful, helpful and caring. Mike went above and beyond the call to help me design Kayden's "Lasting Memories" bronze memorial.
"It has now been a little over a year since Kayden passed. I visit Cedar Lawn nearly every day and I can say the grounds crews do an outstanding job creating and maintaining a clean and peaceful environment. Even today, everyone still supports us and shows us respect each day. I cannot think of a better resting place for Kayden."
— Misty Ferris, Kayden's Mom
---
Memorial Bench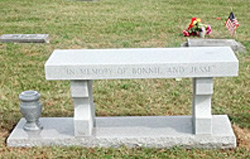 "I drove through last week to see if the bench had been placed, and was extremely surprised to see it installed. I came back the following day to take some pictures to show to my family.
"I am very satisfy[ied] with the finish[ed] product. Eventually, I will get my sister up there to place the order for the opposite side."
With regards, Wes Chisom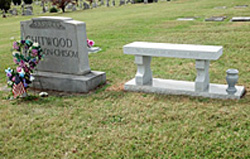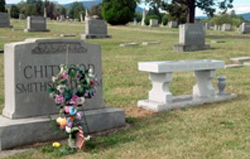 ---