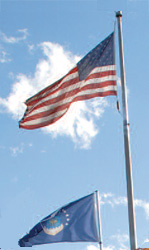 On Memorial Day, also known as Grave Decoration Day, you are invited to stop by Cedar Lawn Memorial Park and Community Mausoleum and receive a complimentary flag to place on your family members grave.
Take Advantage of Our Annual Tent Sale
We'll also be holding our annual Tent Sale from May 23rd through the 26th. Progress continues to be made on
our community mausoleum
– a lower-cost alternative to traditional burial – and we'll be offering special discounts for pre-planning purchases.
Pre-planning your burial arrangements is a wonderful gift to give your family members, relieving them of the stress of having to make yet another decision at a difficult time.